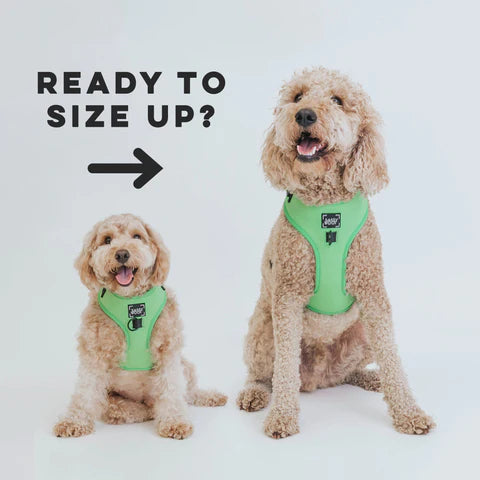 puppy growth pawtection plan
What if my puppy outgrows the harness or collar that I plan to purchase?
As paw-rents ourselves, we know first-hand that this question may cross your mind when considering buying accessories. Adhering to the spirit of our core values and mission, Sassy Woof is excited to introduce our Puppy Growth Pawtection Plan. Available only for U.S. customers, this is an industry-first program designed specifically to replace your harness or collar for a larger one when the time arises.
And even better, all harnesses and collars returned will be donated to local charities to continue making others smile and prolonging the life cycle of the products!
Please note that only our reversible and adjustable harnesses and collars are PGPP-eligible. Strap harnesses do not qualify.
What is the Puppy Growth Pawtection Plan (PGPP)?
With this plan, Sassy Woof will replace a collar and/or harness (reversible or adjustable) for a larger size one within 9 months from the purchase date. In our experience, most puppers are fully grown after 9-12 months! The PGPP is only available for U.S. customers. Only reversible or adjustable harnesses and collars purchased directly through sassywoof.com are eligible for PGPP coverage. The PGPP must be added at the time of purchase, and it is fully transferable in case you buy the product for someone else or someone else gifts it to you.
What is the cost of the plan?
Harnesses: $12.99 per each harness

Collars: $7.99 per each collar
How long do I have to exchange the harness or collar for a larger one?
All claims must be made within 9 months of purchase.
What happens to the products that are returned?
We donate all returned items to local charities and shelters that can put them to use.
How many harnesses/collars will be replaced?
Sassy Woof will replace the reversible or adjustable harness or collar only once. The plan will then be considered fulfilled and no other exchanges/returns will be accepted.

How do I start the exchange process?
Please reach out to us directly at hello@sassywoof.com to start the process and check inventory.

What are the requirements of the plan?
You must return the current collar and/or harness to the following address: Sassy Woof 21620 Ridgetop Circle Suite 110 Sterling, VA 20166
The collar or harness must be in wearable condition. Items with major tears, cuts, or damage will not be replaced. Normal wear/tear is acceptable and, in fact, expected! The PGPP is not intended to replace damaged items because of biting or other intentional physical harm.
What if I my order contains multiple harnesses and/or collars?
If you want to protect all items purchased, then you must get a PGPP for each of them; however, you can get one PGPP and use it for any of the items. For example, if you buy 3 harnesses and 3 collars, you can purchase a total of 6 PGPPs (one for each item) or you may purchase one Harness PGPP and one Collar PGPP and use it for any harness or collar bought.

Who pays for shipping?
You are responsible for shipping the item to be replaced back to Sassy Woof. When received, Sassy Woof will ship the larger item to you at no additional cost using First-Class mail.

What design pattern will I receive?
You will receive the larger item in the same pattern originally purchased. For example, if you bought a small adjustable harness with the PGPP and your puppy outgrew it, we will exchange it for the same the harness in a larger size.

What happens if my design and desired size is out of stock?
If this happens, you will be able to choose a different pattern from the same collection. For example, if you originally bought a reversible harness, you can choose from any other reversible harness.
Can I exchange the product for a smaller size?
No, the PGPP is only designed to replace the harness or collar due to growth.
What if I purchased a PGPP but do not use it?
If you choose not to upgrade your harness or collar within 9 months, please message us at hello@sassywoof.com and we will issue a code for the credit value of the PGPP plan that can be applied towards your next Sassy Woof order!
Is the PGPP refundable?
No refunds will be issued; however, we can generate a code for the credit value of the purchase plan to be used at sassywoof.com within 9 months from the date of purchase.
Disclaimer: Sassy Woof reserves the right to change these terms and conditions at any time without prior notice. Such changes, modifications, additions, or deletions to the PGPP's terms and conditions of use shall be effective immediately upon notice, which may be given by any means including, but not limited to, posting new terms and conditions on the Site. In the event that any changes are made, the revised terms and conditions shall be posted on this website as soon as possible. Please check the latest information posted herein to inform yourself of any changes. Sassy Woof may terminate, change, suspend or discontinue any aspect of this plan.